About Covid-19
Please watch this message concerning COVID-19, the Coronavirus, from our President & Owner, Jill Carlson, about how Park Co., Realtors is being impacted, how we are operating safely for everyone's protection, and our thanks and gratitude to the first-responders during these times.
Park Co. Topics on COVID-19
Please click on the following links below in regards to the topics on COVID-19 (coronavirus) to learn more from Park Co., Realtors. Thank you!
Frequently Asked Questions (FAQ's) on COVID-19
World of Hearts Coloring Sheet
Park Co. Statement on COVID-19
The Power of Park…Here For You!
Like the rest of the world, the real estate industry is experiencing a period of uncertainty. While each day brings new challenges, the PARK CO., REALTORS team continues to vigorously do what we do best…serve our clients. During this critical time, we promise to keep you informed with up-to-date market knowledge and provide you with the guidance you need. PARK CO., REALTORS has been in business over 60 years, and we have weathered major floods, recessions, and everything in between. We have the proven experience to navigate difficult times, and we can assure you that our team is committed to providing top-notch service throughout the Fargo-Moorhead and Lakes region.
As always, our clients' safety and well-being is our top priority, and we have the tools in place to function virtually as needed. Buyers are able to view listings via virtual tours, attend virtual showings, and view photos and information through our PARK app. For those critical in-person interactions, we have strictly enforced safety measures for both buyers and sellers.
We realize this is an unsettling time for everyone. Please know that we are committed to doing our part to keep the economy going by supporting our buyers and sellers and ensuring that real estate transactions continue to move forward. We know that tough times do not last but tough companies do. We've successfully faced challenging times before and we will do so again this time around.
From all of us at PARK CO., REALTORS, we thank you for your ongoing support and partnership. Stay safe and stay healthy!
Thank you!
Park Co. FAQ's on COVID-19
We have been asked many questions on how Park Co., Realtors is operating during COVID-19. Below we have provided our Frequently Asked Questions (FAQ's) in infographic (image) and PDF file format. If you have a question that you do not see on the FAQ, please contact us!
FAQ - Infographic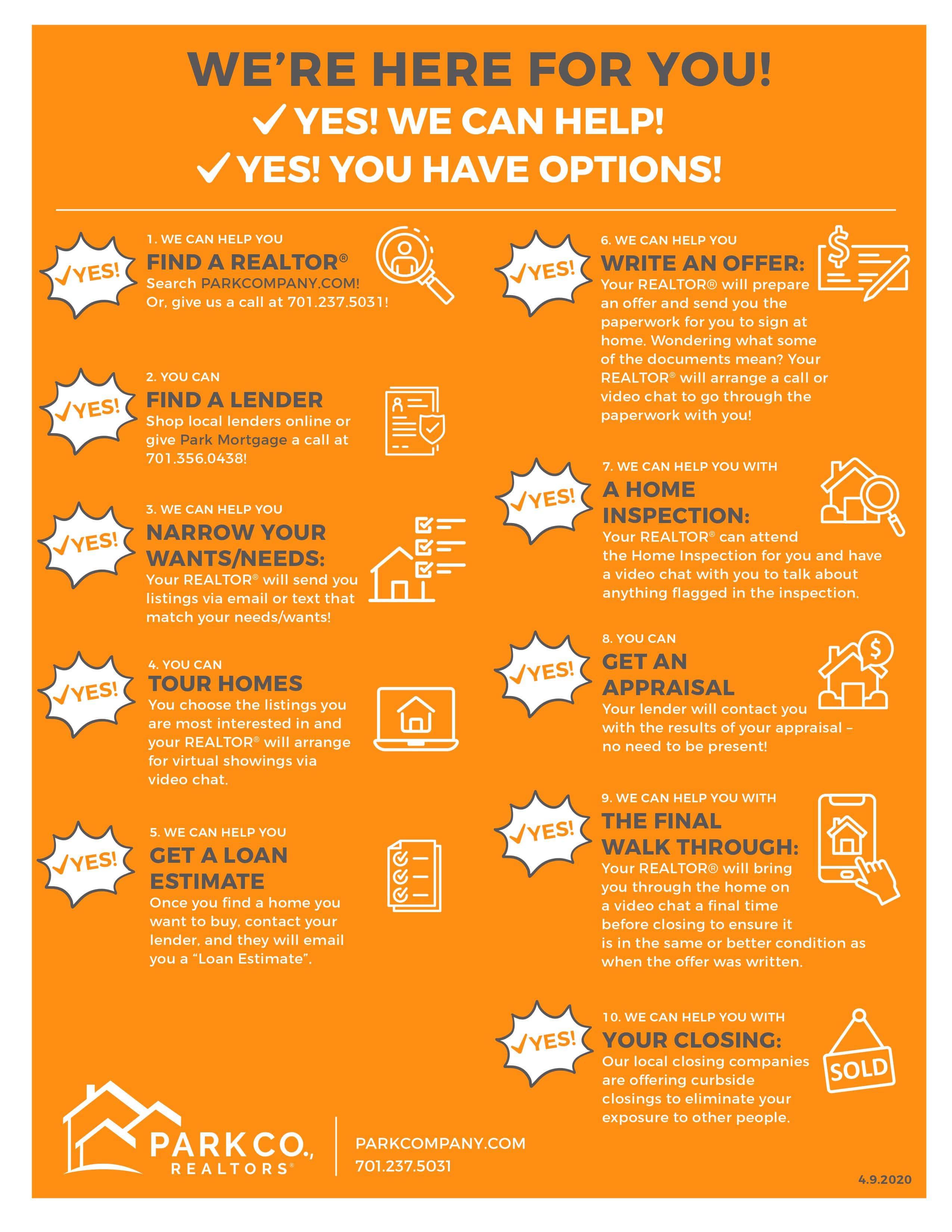 FAQ - PDF Format
You can view the FAQ's in our convenient PDF Format by clicking on the link below!
Park Co., Realtors: COVID-19 FAQ's (PDF)
Park Co. World of Hearts Coloring Sheet
During this time, Park Co., Realtors is proudly showing our support with " #aworldofhearts2020" a popular online effort to share love during a pandemic that was born right here in North Dakota!
Download our FREE World of Hearts Coloring Sheet to spread love and happiness during times of uncertainty with putting up hearts in your windows! Color in the house, cut along the dotted lines, and hang your art in your window!
Send a photo of your World of Hearts house hanging up in your home window to marketing@parkcompany.com and we will share it on our social media pages!
Click the link to download the the World of Hearts Color Sheet for all to enjoy and share!
Other COVID-19 Resources
CONSIDERATIONS FOR EMPLOYERS, EMPLOYEES



UNDERSTANDING ECONOMIC IMPACTS



KEEPING WORKPLACES SAFE AND HEALTHY
Testimonials
" We were happy with the way the house was promoted via printed materials and online. We received frequent updates on the housing market and interest in our house. We appreciated using the DocuSign feature. We were pleased with the communication and service. "
- Bernard Lipp
" Great to work with Betty "
- Todd and Brenda Krupich
" She is so personable, yet diligent on facts related to being successful with the purchase "
- Marilyn Lipp
" Very professional and knows how to make things happen "
- Charles Snyders
" If we purchase a home in the future, we hope Betty will be available to help us!! "
- Daniel and Terri Leal
" Betty did a wonderful job and made the process go very smoothly for us. "
- Nicole Law
" Betty went above and beyond with helping us . She was always available for any of our questions and concerns. "
- Charles and Carolyn Carter
Previous
Next